Our facilities offer the best of two worlds by combining traditional physical therapy with athletic medicine. ACIC is known for its "hands-on" approach to physical therapy – manual joint and muscle strengthening and rehabilitation by therapists and therapist assistants rather than strictly machine-based therapy. The latest techniques with the most modern equipment provide the best and most successful outcome for each patient. Patients suffering from work injuries will experience a quicker return to employment, and recreationally active adults will enjoy the ability to participate in activities that enhance their quality of life.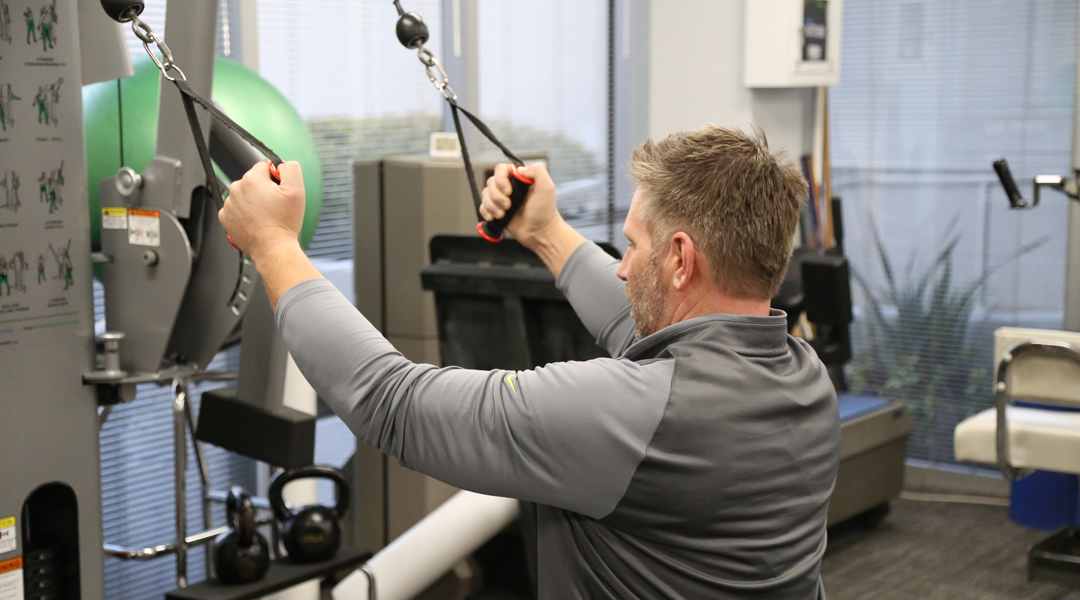 Physical Therapy Treatments
The individualized, "hands on" approach that characterizes physical therapist care is highly valued by patients. When a physical therapist sees a patient for the first time, he or she examines that individual and develops a plan of care that promotes the ability to move, reduces pain, restores function, and prevents disability. The physical therapist and the patient then work side-by-side to make sure that the goals of the treatment plan are met. This will then establish an environment for safe healing. Therapeutic exercise and functional training are the cornerstones of physical therapist treatment. Depending on the particular needs of a patient, physical therapists may mobilize a joint (that is, perform certain types of passive movements at the end of the patient's range of motion) or massage a muscle to promote proper movement and function. Physical therapists may use other techniques such as electrotherapy, ultrasound (high-frequency waves that produce heat), hot packs, and ice in addition to other treatments when appropriate. (www.apta.org)
Sports Injury Prevention
Whenever possible, injury prevention is preferable to injury treatment. Through an individualized and sport-specific program, we improve your agility and coordination, and implement strengthening and flexibility protocols to ensure that you are performing at an optimal, yet safe level.
We also specialize in treating 'Boomeritis'? What is 'Boomeritis'? It's the catch phrase that refers to the injuries that plague the aging Baby Boomer generation. At ACIC Physical Therapy, we keep the Baby Boomers active. We are constantly working to maintain, if not improve, the quality of life for the active adult community.
Rick Stassi serves as a consultant for ACIC Physical Therapy in the area of Performance Enhancement Training.
Pre and Post-Surgical Strengthening
Strengthening prior to surgery usually improves recovery times and can sometimes prevent or delay the need for surgery.
Post-surgical strengthening helps to restore your full function following surgery. Following both acute injuries such as fractures, or longer-term reconstructions of knees or shoulders, regaining full strength, in addition to active range of motion, balance and coordination is important for returning to full function.
Orthopedic Rehabilitation
Orthopedic problems requiring some form of rehabilitation range in complexity. Many sports-related injuries or simple bone fractures may require no formal rehabilitation or only a few hours of physical therapy. More serious orthopedic problems include multiple bone fractures, joint replacement surgeries, and hip, knee and pelvis fractures. These conditions have lifelong consequences and often result in a short-term disability. The road to recovery not only includes the healing of wounds, but specialized rehabilitation to make sure the affected body parts can operate at their maximum levels of function.
At ACIC Physical Therapy, we treat the individual and not just the diagnosis. Using evidence-based care and the most current techniques, we work with you to develop an individualized rehabilitation program that will enable you to resume the lifestyle that you enjoy.
Pilates
Developed from the rehabilitation techniques of Joseph Pilates, pilates is a safe, sensible exercise system using a floor mat or equipment, that will help you look and feel your very best. Pilates can transform the way your body looks, feels, and performs. It builds strength without excess bulk, creating a sleek, toned body. It teaches body awareness, good posture and easy, graceful movement. No matter what your age or condition, it can work for you. Pilates improves core strength, flexibility, agility and economy of motion. It can even help alleviate back pain and other chronic ailments. At ACIC Physical Therapy, Jamie Casey is our pilates consultant. She is certified in Stotts pilates.
Massage Therapy
Massage is one of the oldest healing arts: Chinese records dating back 3,000 years document its use; the ancient Hindus, Persians and Egyptians applied forms of massage for many ailments; and Hippocrates wrote papers recommending the use of rubbing and friction for joint and circulatory problems. Today, the benefits of massage are varied and far-reaching. As an accepted part of many physical rehabilitation programs, massage therapy has also proven beneficial for many chronic conditions, including low back pain, arthritis, bursitis, fatigue, high blood pressure, diabetes, immunity suppression, depression, and more. And, as many millions will attest, massage also helps relieve the stress and tension of everyday living that can lead to disease and illness. (www.massagetherapy.com)
Athletic Training
Athletic Training is an important service that ACIC Physical Therapy provides to several local high schools. An athletic trainer is responsible for injury prevention, assessment, and treatment. Furthermore, athletic trainers act as a liasion between the athlete and physician or other key members of the athletic health care team. Other duties of an athletic trainer include: determining an athlete's play status, assisting in proper equipment/bracing selection, developing injury and illness prevention strategies, creating and implementing an emergency action plan, assisting in reconditioning, and providing on-site immediate treatment of injuries. Overall, the athletic trainer plays an integral role in the school's comprehensive athletic health care system. (For more information, please visit the National Athletic Trainers' Association website at www.nata.org.