Stacy Pearl, D.P.T., C.C.I. – Doctor of Physical Therapy, Owner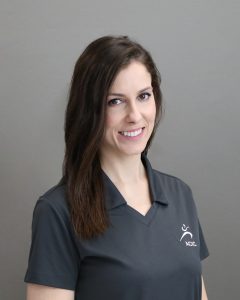 Stacy has been with ACIC since 2004. She was a 4-year scholarship volleyball player from the University of Missouri – St. Louis, and went on to receive her Master's in Physical Therapy from California State University – Long Beach in 2008. Stacy then earned her Doctorate in Physical Therapy from Temple University in 2014.
Her current evidence-based knowledge, coupled with trusting patient relationships yields an expert level of success and patient satisfaction. Stacy bought the practice in 2017 and is excited to continue the level of patient care that ACIC has been delivering for over 30 years!
John Dougherty, P.T.A., A.T.C., T.P.I.– Physical Therapist Assistant, Certified Athletic Trainer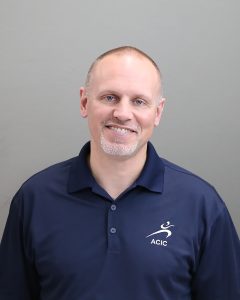 John completed his Bachelor's Degree in Kinesiology from California State University, Long Beach, emphasis in Athletic Training, and the Cerritos College Physical Therapist Assistant Program. He is the former Director of Athletic Training for ACIC Physical Therapy, and Head Athletic Trainer for both Capistrano Valley High School and Mission Viejo High School.
During his 20+ years at ACIC Physical Therapy he has been involved in all aspects of patient care, including continuing education in Pilates, Proprioceptive Neuromuscular Facilitation (PNF), Manual Therapy, ThrowCord, Kinesiotaping techniques, and Soft-Tissue Mobilization.
John has also completed the Titleist Golf Performance Institute (TPI) Certification of Golf Fitness and Movement Analysis.
Sibylle Mehta, D.P.T., C.C.I. – Doctor of Physical Therapy, Certified Yoga Instructor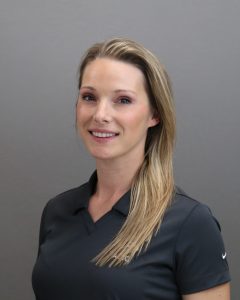 Sibylle obtained her Master's Degree in Physical Therapy from the prestigious Academy Thim van der Laan in Switzerland and completed her thesis regarding the impact of gymnastics on young athletes.
The European techniques that she provides offer a special, hands-on, unique interaction and treatment style. She is known for her soft-tissue mobilization and pain control. As an athlete she was 3X Austrian National Grand Gymnastics Champion, Member of the World Gymnastic Team, and winner of the "Medal of Honor" for sports in Austria. She screens and treats gymnasts at an Orange County gymnastics club, and is a published co-author of "Gymnastics and Back Pain" in the magazine Technique. She is well versed in yoga and martial arts.
She graduated from Chapman with her Doctorate in Physical Therapy in 2012.